Request a Quote
ABOUT US
---
Touch-Up People is proud to be the first of its kind in India, bringing in minor collision repairs to your doorstep, a service platform that has been practiced across the world for over 25 Years. Our sophisticated process - specifically designed for Indian market, and state of the art technology & products - approved by the largest automobile manufacturers across the world, is aimed at providing cost effective solutions to maintain Cars as good as new.
Most of our services cost less than what you would pay an authorized service center and takes less than 4 hours to complete. Our service platform utilize equipment and products approved by the key players in the Indian automobile industry, including Mercedes, Audi, Volkswagen, Maruti Suzuki, Hyundai, Ford, Tata, Toyota, Honda and many more.
To understand more about our line of services and it's benefits, please refer to FAQs
FEEL THE DIFFERENCE
---
We are on a mission to redefine Car care and we are committed to accomplish perfection in every step we take.
100% satisfaction guaranteed, no questions asked
Fair & Transparent pricing, "NO estimates". What you see before booking is what you pay
One year guarantee on all Dent & Paint repairs
Proven concept, practiced internationally for over 25 years
OEM approved products, process & tools
Cutting edge technology from USA, Japan, Germany & Spain
Saves time & effort – most of our jobs takes less than 4 hours and can be done at your door step
OUR VISION
---
Our vision is to enable every enthusiast to drive without worrying about scratches & minor collision damages and to let them enjoy the excitement of driving a Car that looks as good as new, every day.
We take our vision forward by delivering innovative and cost effective solutions to customers and by creating awareness about safe and secure driving practices.
Paint-less
Dent Removal
Paint-less Dent Removal (PDR) is a process where smaller dents are repaired without having to repaint the panel utilizing sophisticated tools and a highly skilled technician.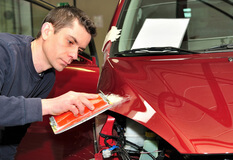 Dent & Paint
Repair
Our Dent & Paint Repair service is aimed at removing dents & scratches followed by a refinish using the highest quality OEM paints.


Advanced Bumper
Repairs
Our advanced bumper repairs can fix the most common damages to the bumpers – cracks, splits, scuff or a scrape.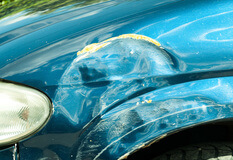 Minor Collision
Repairs
Our collision repair service optimally combine the best of our services to bring the vehicle back to its original charm.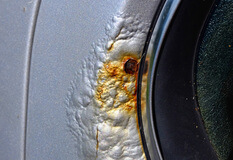 Chipped Paint
Repair
Chipped paint repair involve removal rust, anti-rust treatments and a perfect refinish to bring the original glow.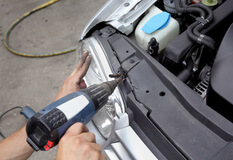 Advanced Plastic
Repair
We use sophisticated tools for welding broken plastics. Our philosophy is that, a broken Fog lamp housing shouldn't call for an entire bumper replacement.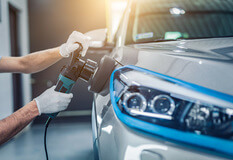 Exterior
Restorations
Our exterior restoration removes effects of oxidizing, fine scratches and swirl marks and is crafted to bring the mirror shine back.


Interior
Detailing
Our interior detailing service is aimed at restoring the interiors close to showroom condition, using industry standard products.


THE GOOD SAMARITAN OFFER
---
Do you really love to make a difference? This offer is for those Elite who show the courage to own up to their deeds. In the unfortunate event you are involved in a minor collision that damaged another person's Car, and if you like to offer them a fix, we will give you a 50% off on your Car's service as a token of appreciation for the nice gesture you have shown!
Terms and Conditions :
Take a picture of both Cars, preferably from the spot of the incident
Service for both vehicles involved need to be booked together
Changing the date of services are permitted subject to availability
Service date for your Car should be after the service of the other Car involved
This offer cannot be combined with any other offers
HEYDAYS OFFER
---
Taking delivery of a new car is one of the most exciting moments of an enthusiast's life and a minor dent or a scratch on it during the heydays can really break hearts. We share that pain and like to offer a 25% discount on any cars that are less than 6 months old.
Terms and Conditions :
The service need to be booked and completed within 6 months from the date of registration of the car
Changing the date of services are permitted subject to availability and the new date should fall within 30 days of the older service date
This offer cannot be combined with any other offer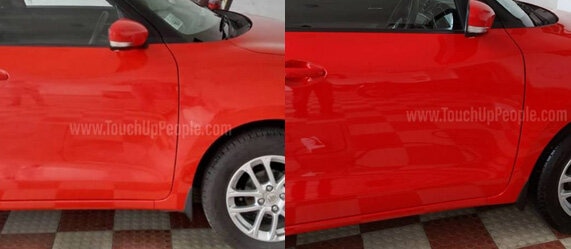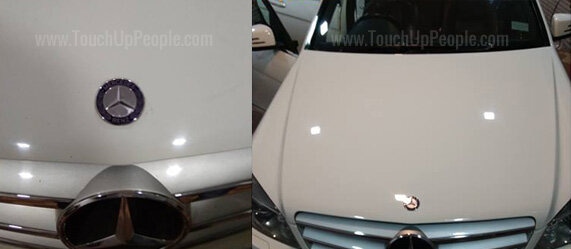 "Excellent service. Staff were very polite, friendly, explained clearly what can be done and went about their work in a very professional manner. They were fast and the end result is superb. Absolutely no fuss at all in accomodating different requests."

"The service specialists were very prompt, humble and extremely knowledgeable in what they were doing. They did an amazing job and the outcome was so nice that I can't find a trace of the dent or scrap that I had unless I looked at the before pic."

"Iam happy with my A4 paint job. Quality service offered for a reasonable price compared to the other group and were quicker to complete the work. I would surely recommend."

"Professional, Quality, timely service. A job well done meeting all the expectation. Strongly recommend"

"Touch-Up People team has done an extremely good job for denting/painting and exterior/interior polishing for Optra Magnum Car. What I liked the most are their flexibility and the professionalism demonstrated by each one of the team members. I strongly recommend them. "
FREQUENTLY ASKED QUESTIONS
---
Provision to park our service van near your vehicle will ensure timely and swift service. There should be a private parking spot / space.If you live in a gated community, we can provide the service in a common area.
We provide one year guarantee on all our Paint & Dent repair services. We use OEM approved products and a quality issue is highly unlikely. However, if any rework is required during the guaranteed period, we will fix it for free.
Never. When we leave your parking space / garage, the only thing that look different will be your Car. That is our guarantee!

Before we answer this question, we like you to know some of the key components of the auto insurance.
604/1, 604/2, VOC Street, Rajiv Gandhi Salai (OMR), next to Hotel Turyaa, Elango Nagar, Kottivakkam, Chennai, Tamil Nadu 600041.
service@touchuppeople.com
---